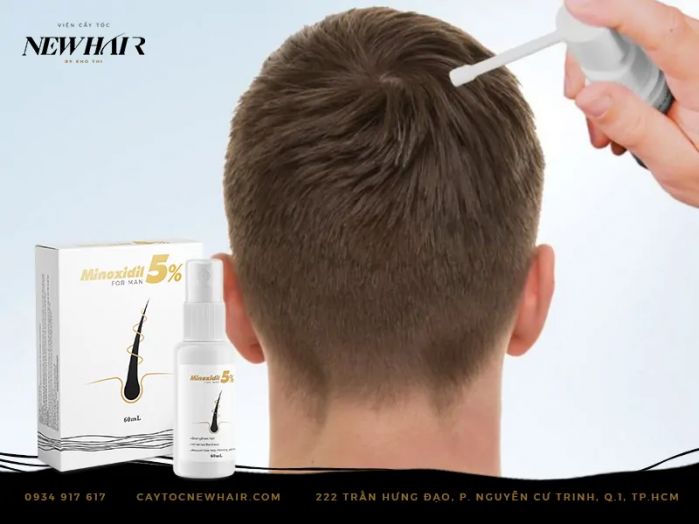 FINASTERIDE
FINASTERIDE – A MEDICINE THAT HELPS MILLIONS OF MEN PREVENT BALDNESS
Hair partly represents your personality. Losing hair is never good as it can greatly affect your appearance and confidence. The good news is that today there are plenty of methods to help stop hair loss, and one of the most effective is using Finasteride pills. If you don't know what Finasteride is, how effective it is in treating hair loss, what dose is needed and how it is used, please learn more about it in the article below!
1. WHAT IS FINASTERIDE?
Finasteride (Propecia) is a medicine that helps treat male hair loss due to hormonal alopecia. Finasteride was originally approved by the FDA as medicine to help treat an enlarged prostate. Today, however, Finasteride is sold for the treatment of hair loss.
When ingested into the body, Finasteride helps prevent testosterone from being converted to DHT, a hormone linked to hair loss in women and men, therefore reducing the amount of DHT in the body. The product is designed in the form of a tablet and can be used at a dose of 1mg per day.
In many studies, Finasteride was effective in slowing or stopping hair loss as well as stimulating hair growth. A study shows that, more than 85% of users see positive results after taking Finasteride when hair loss is reduced and new hair grows longer and faster. Finasteride is suitable for men over 18 years of age and is not usually prescribed for women or children.
2. HOW DOES FINASTERIDE WORKS IN HAIR LOSS TREATMENT?
DHT is a byproduct of testosterone – an important hormone that male body produces. While DHT is essential in early life, it can attack your hair follicles, causing male pattern baldness and hair loss as you get older. If you have hereditary hair loss, DHT can bind to receptors in hair follicles and cause them to shrink, therefore hair looks thinner and more brittle, as well as fall out faster. DHT can also cause your hair follicles to take longer to grow back after old hair falls out.
Finasteride works by inhibiting an enzyme called 5α-reductase which is responsible for converting testosterone to DHT. By this way, Finasteride causes DHT level in your blood to drop, allowing your hair follicles to avoid damage by DHT. Studies have shown that when using Finasteride, the level of DHT in your blood will decrease by more than 70%.
This helps to slow down or even stop your hair loss. Many people also see the significant regrowth of hair in thinning areas after starting to use Finasteride. In clinical trials published in the International Journal of Cosmetic Dermatology, up to 90% of men with hair loss using Finasteride maintained their hair and noticed significant growth and improvement in their hair. Meanwhile, 75% of men using other types of medicine have more severe hair loss.
In another study published in the Journal of the American Academy of Dermatology involving two one-year clinical trials, researchers found that Finasteride helped increase the amount of hair at the top of the head and the hairline by more than 15%.
3. HOW LONG DOES IT TAKE TO SEE THE EFFECTIVENESS OF FINASTERIDE?
Like other hair loss medications, Finasteride is not effective immediately but takes months of usage to see results. The time to see Finasteride work effectively depends on the condition and extent of hair loss of each person.
According to experts, it is normal to see the effect of taking Finasteride after only 3-4 months, but it will take 6-9 months in some cases. You should know that Finasteride is not effective in everyone but it can slow down the rate of hair loss and this is really helpful for those with severe hair loss.
Initially, some people may find that their hair is not much fuller when taking Finasteride. Instead, hair loss is significantly reduced. After about one year of use, you will see the full effect of Finasteride. Below are the stages of hair growth when using Finasteride:
● After 1 day: Finasteride starts working, blocking DHT production, reducing the level of DHT in your blood.
● From 1 week to 3 months: At first, Finasteride causes more hair loss because this is the mechanism to "reset" the new growth cycle of hair. This is only a temporary symptom which shows that the medicine is working.
● From 3 to 4 months: Now that Finasteride takes effect, you can see less hair loss. You can even see new hair growth in some cases.
● From 9 to 12 months: At this point, the full effects of Finasteride are exerted. Even if you do not see an improvement in the quality of your hair, a certain thing is that your hair loss decreases or stops completely.
4. WHO SHOULD AND SHOULD NOT USE FINASTERIDE?
4.1 Who is suitable for taking Finasteride?
As noted above, Finasteride is FDA approved for the treatment of male pattern baldness or androgenic alopecia. This disease may occur in women, but the FDA has not approved the use of Finasteride for women, especially those who are planning to become pregnant since it can cause birth defects.
However, in some cases, doctors still prescribe Finasteride in the treatment of female hair loss, which is an off-label drug for postmenopausal women.
4.2. Who is not suitable for Finasteride?
Finasteride is recommended in the following cases:
People who are hypersensitive to the components of the drug
Children under 18 years of age.
Women who are about to become pregnant or are pregnant or of childbearing age.
Men with hair loss types such as:

Telogen effluvium. This is a temporary form of hair loss caused by severe stress, infection, surgery, febrile illness, nutritional deficiencies, hormonal changes, and certain medications.
Patchy hair loss. This is an autoimmune form of Alopecia Areata, in which your hair may fall out in small, round patches. Experts are not entirely sure what causes this type of hair loss, although it may be related to stress, infections, and certain medications.
Inflammation of the scalp. This is also known as ringworm of the scalp, a fungal infection that can cause patchy hair loss.
These are all hair loss diseases that are not caused by DHT, so the use of Finasteride is not effective in treatment.
5. DOSAGE AND HOW TO USE FINASTERIDE
Finasteride is super simple to use since it is produced in the form of tablets that you can take one tablet per day to treat and prevent hair loss. Finasteride is usually recommended right after eating.
In the treatment of hair loss, Finasteride is used at a dose of 1mg/day. This is the most effective dose to help get the most out of the product. For those who experience side effects when taking Finasteride, there should be a reduction of the dose to 0.2mg per day. Many studies have shown that when being used at the dose of 0.2mg/day, Finasteride is still effective although it is still less effective than the dose of 1mg.
For the best results when taking Finasteride, try these tips:
Used it in combination with Minoxidil. In fact, many studies have specifically looked at the effects of Minoxidil and Finasteride as a combined treatment for hair loss in men. Interestingly, some studies have found that Finasteride and Minoxidil are more effective when used together than separately.
Quit smoking. While there have been no studies linking smoking to male pattern baldness, there is ample evidence that smoking damages the DNA of hair follicles, which contributes to some type of hair loss. Therefore, if you want to treat hair loss, you should give up the habit of smoking.
Take Finasteride at the correct dose. Finasteride is recommended at 1mg per day, not necessarily at higher doses because it increases the risk of side effects. It is better to follow the recommended dosage and notify your doctor immediately if you notice any unusual problems. Make sure your doctor can always monitor your medication progress and any medical conditions you may have.
Try to take Finasteride at the same time every day. Finasteride works best when being taken at the same time of day. If you forget to take your dose, skip it and resume your usual dosing schedule the next day.Store Finasteride properly. Finasteride is best left in a box at room temperature. Avoid leaving Finasteride in places with high humidity such as bathrooms.
Store Finasteride properly. Finasteride is best left in a box at room temperature. Avoid leaving Finasteride in places with high humidity such as bathrooms.
Some people choose to use Finasteride to stabilize the existing status of hair loss before undergoing an autologous hair transplant. The use of Finasteride will effectively stop the hair loss process while helping to improve hair quality, thickening weak and thin hairs, thereby strengthening the quality of hair follicles better for the hair transplant procedure.
Precautions while using Finasteride:
You should avoid drinking alcohol (maximum 3 glasses/day)
Sometimes Finasteride is NOT the right medicine for you because you may be suffering from a different type of hair loss.
For the best treatment, it is recommended to visit and get a diagnosis of hair loss from a specialist.
You should STOP taking Finasteride completely if planning to have a baby.
6. SIDE EFFECTS OF FINASTERIDE
Finasteride is an FDA-approved hair loss medication that is safe, effective, and well-tolerated for most men. However, there is still a small percentage of men who experience side effects when using Finasteride such as:
Reduced libido and ejaculation problems
Headache/dizziness
Irregular menstruation
Chest tightness
More hair grown on the body surface
Rash on the skin
In general, the risk of side effects from taking Finasteride is low. Most men who take Finasteride for a long time benefit from it more than the harm it brings. For those who unfortunately experience these side effects, there is no need to worry because the above symptoms will disappear when stopping taking the drug.
We hope this article has helped you clarify important information about Finasteride. To find out if Finasteride is really your right choice, immediately contact NEWHAIR via hotline 1900.6717 or 0934.917.617 for direct advice.
Từ khóa tìm kiếm phổ biến